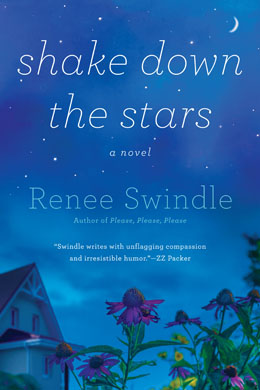 Before I answer, I'd like to thank you for having me. I like your blog. You do a lot for writers and readers. So thanks.
Okay. My name is Renee Swindle and I'm the author of two novels. My first novel, Please Please Please, was an Essence Magazine/Blackboard Bestseller. It was also published in Japan and Germany. My second novel, Shake Down The Stars, was released in August 2013 (NAL/Penguin).
2. Tell us about your new project.
Shake Down The Stars grapples with a woman trying to overcome the death of her daughter. The death occurred five years before the start of the novel, and she can't seem to move forward in life. She drinks and sleeps around. Yes, it's an intense story, but I've learned that I enjoy writing with humor and also like to make sure my scenes feel fast-paced. While the story is sad at times, it's also hopefully moving and there are several humorous situations as well. The friends the narrator eventually meets, for instance, turn out to be a lot of fun. People and reviewers have said that they both laughed and cried when reading the novel, and that was exactly what I was aiming for.
3. Why was it important for you to tell this story?
The story isn't based on anything that has happened in my life. The story came to me over time. I was worried when I realized I was dealing with a woman who lost a child--I didn't want to write anything depressing and heavy--and added to that, I realized the narrator, Piper, was an alcoholic who slept around. I stayed with her, though, because I wanted to see if she'd find happiness again. I honestly didn't know how it would end. I also loved her crazy family and friends and her smart voice, and the men in her life. By the end, I felt the novel was a gift and hoped people would find hope in the story.
4. What is the most important thing you want the reader to learn?
That's a great question. I hope readers learn that it's possible to find happiness again; that if you're the outsider of your family, you can create a loving family from friends; and that humor is the antidote to many a momentary problem. Also, that the night sky is wondrous and amazing.
5. How have you grown as a writer?
Please Please Please was based on a short story I wrote while in grad school. The narrator was duplicitous and unreliable, but I also thought she could be pretty funny—and sexy. I'm still interested in characters I don't see much and characters that surprise me. I actually wrote two novels after Please Please Please (which explains the delay between books), but they never sold or went anywhere—except a drawer! I think I needed to find my own voice, which lead to Shake Down The Stars. Writing the two books that went nowhere helped me to see that my ability lies in humor and telling a fast-paced narrative—at least I hope so—even if the story is sometimes dark or sad.
6. What was the hardest part about creating this story?
The short answer is that my first two drafts were filled to the brim with preachy, overwritten, crappy chapters! Every time I over reached, though, I'd ask: Are you being honest? Is that what the character would truly say, or is it what you want the character to say? Is this the conversation you want to force on these two characters, or is it the conversation they would truly have in this moment? Honesty saved me from myself time and again.
7. As a writer, what keeps you motivated?
Hearing from people who like my novels. And my goal is to have someone turn one or more of them into a movie. I hope to keep at it until that happens. I also really enjoy the process.
8. What is some of the best advice you have received from other writers?
I really like what Ann Lamott says in Bird By Bird: take things one scene at a time. When writing something as big as a novel it helps if I focus on the scene at hand and not worry about word count or whatever. Otherwise, if I start thinking about how much time it takes and all I want to do, I start to freak out. So, for me, writing comes down to one scene at a time. Scene by scene. Chapter by chapter.
Another bit of advice was to read screenplays and books on how to write screenplays. This suggestion was helpful early on when I had no idea how to shape a novel, which often has the same arcs and beats as a movie. That was huge for me. When I first started to write, I didn't know what a scene was, nor did I realize how important tension and conflict were in the development of a scene. Some books I read also noted the importance of shaping the inner conflict and emotional arcs of characters. I started watching for these things when reading other novels and finally started making the connection. I also realized the process of writing didn't have to feel out of my control.
9. E-books or Paperback, which do you prefer?
Paperback! I don't own an E-reader. I understand the practicality, I do, but I'm a paperback kind of gal.
10. What books are on your shelf to read?
What isn't on my shelf to read? I have some graphic novels I want to get to. I still want to read Junot Diaz's This Is How You Lose Her, and Gone Girl, The Warmth of Other Suns…and I want to read more poetry. I could go on and on…
My next novel, A Pinch of Ooh La La, comes out July 2014. Yay!
12.How can readers get in contact with you?
My website is www.reneeswindlebooks.com and I'm on Facebook and Twitter. I love to hear from people.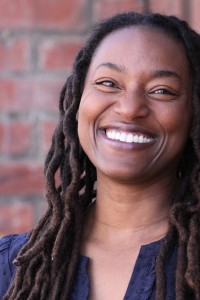 Renee Swindle is the author of Shake Down The Stars (NAL/Penguin) available now.
Her first novel, Please Please Please, was published by the Dial Press/Dell. Please Please Please was also published in Germany as Mehr Mehr Mehr and published in Japan. Please Please Please was an Essence Magazine bestseller.
Renee Swindle earned her BA from UC Irvine and MFA in creative writing from San Diego State University. She lives in Oakland, California with her two dogs and three cats–meow!


Review 5 out of 5 stars


After reading tons of love stories and melodramatic family quarrels over the summer. Shake down the stars was a great book to start off my fall season of reading.


With an unflinchingly honest portrayal of reality Swindle writes with vivid honesty as she brings us into the life of a woman desperately wounded emotionally over the loss of her beloved daughter.
It is through poison in a bottle and a lustful nature for companionship that we the reader get to experience the pitfalls of the characters journey. Swindle writes with an ugly beautiful deeply emotional and intense fluidity that brings to life even the minor characters in the midst of humor.
Shake down the stars is raw and a refreshing read that will you breathless and wanting more.
Swindle is an author to watch and I will more than happily join her on the illustrious journey of her literary career.