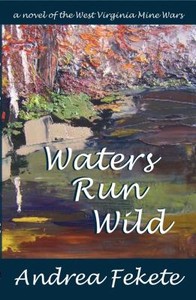 In her novel,
Waters Run Wild,
Andrea Fekete captures not only a piece of history during the West Virginia mine wars, but also the strength and beauty of a back country people. Her use of vernacular English allows the reader to see life through the eyes, thoughts, and feelings of her characters until, "no matter how dreadful a memory, she pulls beauty from it like plucking a chestnut from its prickly husk."
From Waters Run Wild: "The clouds crash so loud the house shakes, then they split open like pillowcases spilling out sharp needles of rain that clacks, clacks against our roof. Mama stands up, holding Anna in her arms, and rushes her inside the house, stopping at the door to look for Isaac again. Mama says, 'I hope he don't catch his death, Lord willin'.'
"The rain catches its breath, then blows down powerful again."
It's early twentieth century. Technology has ushered in a new world, and yet the old world still exists. The Wild Wild West has nothing on West Virginia! Jennie, Isaac, Ezra, Katie, and little bird Anna are facing the challenges of growing up in any era—love, death, and moving on—against the backdrop of civil rights, workers rights, and the beautiful Appalachian mountains. Andrea Fekete's novel is full of the passion and poetry, spirit and strength of people and nature and in flux.
My name is Andrea
Fekete
. I'm 36 and single.
I was born and raised in southern WV.
I am granddaughter to Mexican and Hungarian immigrants.
I graduated with my first MA from Marshall University
in 2005
and my MFA in Creative Writing
(
Fiction
)
in May 2014 from WV Wesleyan College. I teach writing at Ohio University Southern. My first
book
,
Waters
Run Wild
,
was published in 2010.
It actually received very good reviews and sold well for a small press. (
Sweet gum
Press)
My first poetry chapbook
,
I Held a Morning
,
came out in 2012. My poetry appears in numerous
literary magazines such as Borderlands: Texas Poetry Review, ABZ, and
Montucky
Review among others.
2.
What would you like readers to take away from your book?
That's a diff
icult question because my novel of historical fiction Waters Run
Wild,
touches on so many important issues like unionizing, racial tension, women's inner lives and family dynamics. I wanted show what the coal mine wars in WV of 1920 were like for families living through them
, what led up to them
. So many people are unaware that the largest armed insurrection since the Civil War occurred in WV during this time an
d that the US government opened fire upon
and bombed their own people in WV, coal miners trying to unionize for safer and fairer working conditions. It truly was like the Wild
West.
Debt bondage was happening in Appalachia, a modern form of slavery. Families were victimized by the coal companies that employed them on many levels from controlling where they spent their money (Or "Scrip"—the coal companies had their own money) to inciting violence if anyone whispered the word "union", to creating tensions between the races by housing them in separate sections. It was also important to me to educate the public that southern WV was home to immigrants and blacks, not just poor white folk and these communities were rich with tradition and culture, and how these races all came together under the banner of unionizing for worker's rights.
In fact, the biggest influence in the main character's life is an African American woman, a worldly teacher named Fannie. Jennie and Fannie are two strong feminine voices and it was important to me to write about strong women in this book. I've heard writing about Appalachian women won't get you famous, but that's not why I wrote Waters Run Wild.
3.
What did you learn about yourself in terms of your strong points and weak points while writing this book?
I can work on a manuscript for years and still not be completely happy with it, but I think that is pretty typical for any working writer.
I do think that can be a weakness.
I learned to allow my own life experience, pain and joy,
to
inform my writing. When I do this, my writing is more sincere and authentic. That is
a strength
of mine I would say
. I have to inject myself into my writing in some way in every character and scene, even if there is no evidence of my being present
there, I always am.
Another strength I have is my ability to implement poetry into my prose. My first love was poetry, so it is only natural that lyricism would come through in my writing. I have been complimented for my ability to capture the dialect of Logan
County
,WV
by
some writers I greatly admire.
I know for sure one of my weaknesses is my inability to just stop revising, to let something stand and be finished. Also, I tend to have trouble letting go of an idea even if I see it may not be working. I get stuck in my vision and don't want to let it go sometimes even when I should.
That, mixed with over revision causes me to end up revising a scene that doesn't work over and over rather than just chucking it.
4.What
was your greatest roadblock, and how did you overcome it?
Probably just managing to keep sending out those query letters to publishers day after day (year after year).
Only three publishers would even look at the manuscript, but the third chose to publish it, Rose Marie Kinder of
Sweet gum
Press. I was her last project. She gave my book a chance and it was a good decision. My book has been taught in schools and colleges, so she saw something when other publishers didn't. But it took a few years of persistence on my part. I had to keep faith in myself in the face of all those rejection letters from people who wouldn't even read it or give it a chance.
I won't self publish and I'm pretty stubborn about that, but I was wondering if anyone would ever want it after sending out so many query letters and getting nothing but negative responses. I just keep on plugging away. That's what you have to do when you know you've written something of quality.
5.Can
you give us one do and one don't for those aspiring to be a writer?
Do? Revise, revise,
revise
. Don't?
N
ever let anyone tell you to paint your blue guitar red…Picasso's guitar was blue and it was his guitar. Had he changed it to red because someone told him to, it wouldn't have been his vision
and maybe wouldn't be so
famous
.
So, remember, advice from others can be great, but ultimately, you are Picasso. Paint that guitar blue if you wish. A well known poet and best friend of mine, Ace
Boggess
, is the one I am borrowing this metaphor from.
I must give him credit for that piece of advice, but it is something that I truly believe in.
6. What one thing about writing do you wish other non-writers would understand?
That the speaker in the poem or character in the novel is not necessarily the same person as the author (me).
I write from
many point
of views in my poetry and fiction and not all of it is some sort of life confession. Also, that I am an artist. For me, that means I don't need to be famous or rich to be happy with what I have created. I create art because I love doing it and I have a compulsion to do it. It's just who I am. I love writing and I love getting emails from people who say they love my writing, but that isn't why I do it. I do it because I'm an artist. Bears go in the woods. I write poetry and novels. Ha! They're the same.
So, don't ask me how much money I've made of
my novel
. That isn't why I do it.
7. What was the last book to keep you up at night reading it?
I couldn't put down "Where I'm Calling From" by Raymond Carver, a collection of short stories.
Also, "Given Ground" by Anne Pancake.
I reread these all the time.
Two collections of short stories that are so
different, but both brilliant.
8. What do you do to make time for yourself?
I only teach part time so I have plenty of time for myself and I don't consider writing "work" like many writers do. I consider it personal and free time. I enjoy writing, even if I revise for eight hours straight on two scenes in my new novel.
Yes, it takes concentration and thought, but
I am still enjoying it. Yes, eventually I will hate looking at those two scenes but it's just not
real
work
to me.
Grading papers is work.
For me, writing is like eating or sex or flying down a hillside on a sled, pure joy.
Unless it's a paper for school.
Ha!
9. How can readers get in contact with you?
I can be reached by FB message
or personal email
Look up "Waters Run Wild" on FB and my page will appear. I don't check it
everyday
but I do check it
weekly and always respond
. Or email me at
fekete@ohio.edu
. I love hearing from readers and interacting with them through email.
But don't send me your manuscript. I'm sorry, but I only read the work of my friends. If I didn't have that rule I'd go crazy.
I just finished a novel at WV Wesleyan that I haven't tried to publish yet. I may never try. But working on my fiction for years has pushed me into working on essays and poetry instead. I'm sort of just tired of working that particular muscle. I need a break from fiction, so I'm writing about my own life experiences in essay form. I plan to eventually publish a collection of them if I end up writing enough of that is. Also, I am always writing poetry, so I plan to continue to publish those in literary magazines. I'd like to eventually publish a collection of poetry
as well
. I have a chapbook, but I want an actual collection. That is probably in the distant future for me. And I plan to continue to teach. Soon, I will be teaching creative writing at OU. I'm very happy about that.
Andrea Fekete earned her MA in English from Marshall University in 2005 and currently teaches at Ashland Community College. Her poetry has appeared in over forty literary magazines including The Adirondack Review, The Virginia Adversaria, The Barbaric Yawp and The Smithville Journal, and in such anthologies asWild Sweet Notes II: An Anthology of WV Poetry, The Appalachian Writer's Guild Anthology, The Appalachian Heritage Anthology of Shepherd College, and Generaton X. In Our Own Words. This is her first novel.